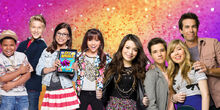 Hi! Welcome to my page! Feel free to swing by my message board to ask me a question. About me: My favorote Nickelodeon shows are Game Shakers, iCarly, Victorious, and Sam & Cat, and School Of Rock. Thank you, Dan Schneider for 12 years of hilarious Nickelodeon sitcoms!
My Favorite Episodes (of Game Shakers)
Wing Suits & Rocket Boots
Revenge @ Techfest
You Bet Your Bunny
CANT WAIT FOR GAME SHIPPERS- AIRING SEPTEMBER 8TH 2017 IN THE US!!!!!
Community content is available under
CC-BY-SA
unless otherwise noted.