"Are you having a great time Lance?"

This article is a relationship development of Kenzie Bell.Please add the right information as provided.
Best Friend/Co-worker
Main Article: Babe & Kenzie
Sky Whale
Babe and Kenzie are best friends. In Sky Whale, Kenzie and Babe are paired up for a science project, which none of them care about for. Kenzie and Babe start with the Rollerplate, a design they first made which benefits humanity.
But when the project fails, Babe and Kenzie compromise the game, Sky Whale. Sadly, Mr. Sammich gives F for the project leaving Babe and Kenzie hopeless. Soon enough, they become partners and open Game Shakers.
Lost Jacket, Falling Pigeons
In Lost Jacket, Falling Pigeons, Kenzie and Babe tried to find Babe's jacket but failed deeply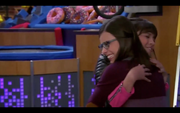 . But at the end of the episode, Kenzie, nicely bought the same jacket with Kenzie's bonus to acknowledge their friendship.
MeGo the Freakish Robot
MeGo the game was made by Kenzie and Babe.
Tiny Pickles
Kenzie and Babe make a new game and go to the Helen Show to see Helen Dubois for an interview. The girls were close in this episode.
Scared Tripless
Kenzie and Babe help Trip scare Double G.
Main Article: Hudson & Kenzie
Good Friend/Co-worker
Hudson and Kenzie co-work with each other in Game Shakers.
Main Article: Triple G & Kenzie
Good Friend/ Co-Worker
Triple G and Kenzie work together in Game Shakers